☰
Cooking with Morgane
Welcome
×
Vietnamese Shaking Beef
Bo Luc Lac
An abundance of flavors and textures around melt-in-mouth beef cubes
This recipe has its origins in Vietnam (Bò Lúc Lắc) and Cambodia (Lok Lak). However, it could be a dish of French influence, this is suggested by the use of beef and tomato paste. The sauces used for the marinade can also evoke a Chinese influence.
Choose tender beef pieces. It is important to cooked over high heat, so the beef will have a good taste, just be careful to grill it only slightly because it must remain tender and almost melting.
Stir-fried rice with tomato is also specific to this dish. Eat with vegetables, salad, onions with vinegar and a quick dipping sauce made with lemon juice, salt and pepper. Bon appétit.
Ingredients for 4 people
400g of Thai fragrant rice
4 garlic cloves
1 onion
1 tomato
1 cucumber
4 leaves of salad
70g of tomato paste
6 tbsp of oil
1 lemon
Salt
Black pepper
Marinade
500g of beef
1 tbsp dark soy sauce
1 tbsp of oyster sauce
1 tbsp of oil
¼ tsp of salt
1 tsp of tapioca flour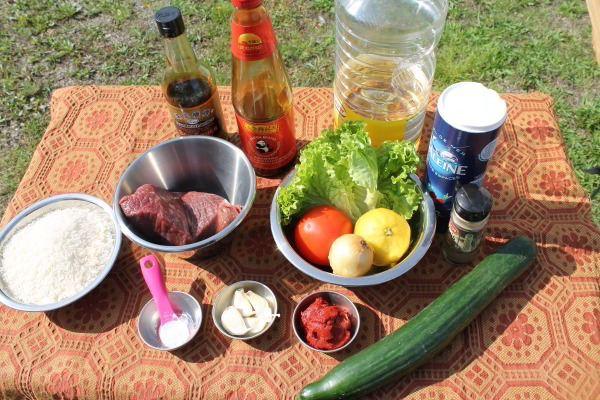 Vietnamese Shaking Beef, Bo Luc Lac - Ingredients
Watch the Recipe Video
Vietnamese Shaking Beef - Bo Luc Lac - Morgane Recipes

Cookies
© Copyright 2015- Cooking With Morgane. All rights reserved.