☰
Cooking with Morgane
Welcome
×
Vietnamese pork roll 'GIO'
'CHA LUA'
To make at home to get a healthier dish and whose ingredients you will know
Here is the recipe of the favorite pâté of Vietnam. It is used in salads, in the famous Banh Mi sandwiches, it accompanies the Banh Cuon, it replaces any meat with sticky or fragrant rice or even with a rice soup. You can also propose it as an appetizer.

Many families always have a Gio in their fridge: when the time is short to prepare a meal, they just cut a few pieces to eat them with rice or bread.

I strongly encourage you to make your own version of the Gio. You will know for sure the ingredients, it will be less fat, without any preservative and glutamate. Often the commercial Gio are not wrapped in banana leaves, they have been replaced by plastic. It lacks that delicious little perfume that you will find in this traditional version.

This is a quite technical recipe, you have to be careful about temperature variations. The baking powder is used to bring an elastic texture to the Gio but it should not make it swell. This is why ice water must be used when mixing and why the roll should wait in the freezer before cooking.

You can avoid the garlic if you only want the taste of the meat. Keep it in the fridge for one week. Bon appétit.
Ingredients for 1 Roll
500g of pork
1 clove of garlic
15g of cornstarch
1 tsp of salt
1 tsp of sugar
2 tbsp of fish sauce
1 tsp of baking powder
½ tsp of ground pepper
50ml of ice water
4 banana leaves of 35cm wide
Kitchen string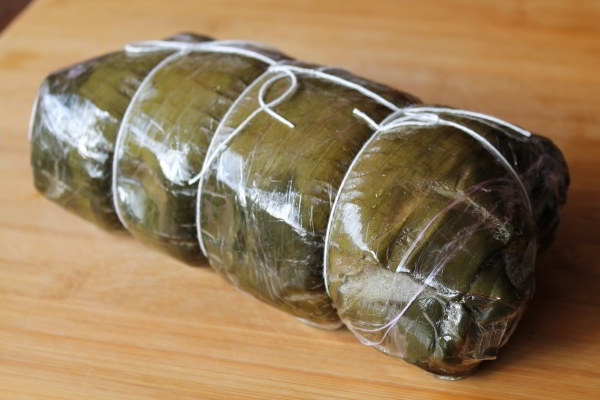 Gio, the Vietnamese Pork Roll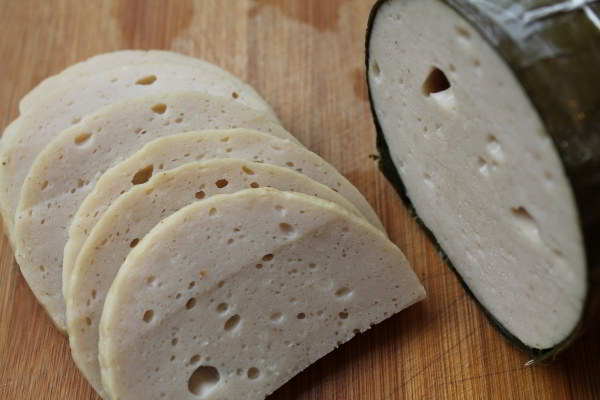 Sliced Gio
Share this recipe:
Watch the Recipe Video
Vietnamese pork roll 'GIO' - 'CHA LUA' - Morgane Recipes

© Copyright 2015- Cooking With Morgane - Bounnhing Boualavong. All rights reserved.