☰
Cooking with Morgane
Welcome
×
Vietnamese Lemongrass Grilled Pork Belly Salad
The tastiest Bo Bun: Bún Thịt Nướng Cha Gio
The famous Vietnamese dish that we simply sometimes call Bo Bun has many variations. Bò bún actually means 'rice noodles with beef'. In the succulent version, I replaced the beef with pork belly which I grill in the oven after leaving it overnight in a lemongrass marinade. I also put homemade crispy spring rolls in the recipe. In Vietnamese we would call this dish 'Bún Thịt Nướng Cha Gio '.

Each guest adds some spring roll sauce, then mixes his bowl. The dish is eaten cold or warm. It is the wide variety of scents and textures that gives this bowl its appeal and makes it so cheerful. Bon appétit.
Ingredients for 4 people
500g pork belly slices
300g dehydrated rice noodles
2 lemongrass
3 garlic cloves
¼ tsp salt
1 tsp sugar
½ tsp dark soy sauce
1 tbsp fish sauce
2 tbsp oyster sauce
1/3 cucumber
1 carrot
100g bean sprouts
3 mint sprigs
2 Thai basil sprigs
10g cilantro
2 spring onions
2 tbsp vegetable oil
8 crispy spring rolls
Spring roll dipping sauce
40g roasted peanuts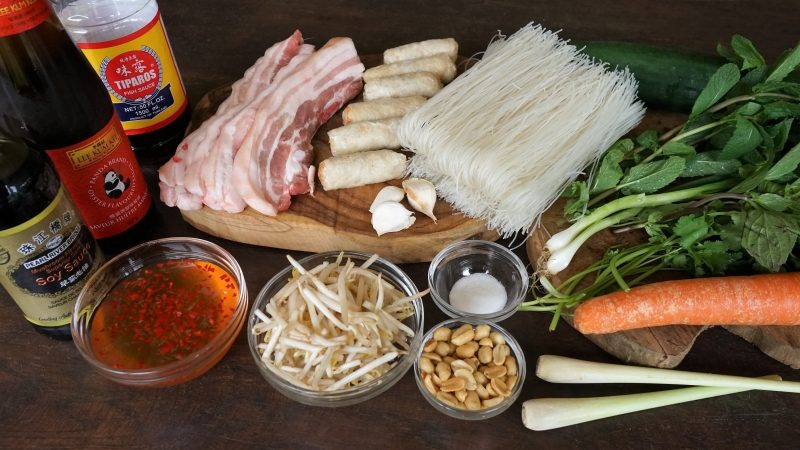 Ingredients
Share this recipe:
Watch the Recipe Video
Vietnamese Lemongrass Grilled Pork Belly Salad - Morgane Recipes

© Copyright 2015- Cooking With Morgane - Bounnhing Boualavong. All rights reserved.