☰
Cooking with Morgane
Welcome
×
Pandan and Coconut Layer Cake
To discover the sweet scent of the pandan leaves
This is a delicious cake flavored with pandan leaves, it is very appreciated in Thailand, Laos and Cambodia. It also looks good with its alternation of colored layers. You will find fresh or frozen pandan leaves in most Asian supermarkets. These leaves have a nice scent of grass that goes very well with coconut. They are also called pandanus or baiteuil leaves.

The versions of this cake that use ready to use pandan extract or aroma have nothing in common with this one. Do like in Laos: prepare it with fresh leaves and offer it to family and friends. You can also imagine variants to have of different colors layers, for example by using green tea powder, vanilla, or cocoa. To get the right texture of the cake - neither too hard nor too soft - carefully follow the dosages of flours and liquids. Bon appétit.
Ingredients for for 10 pieces of cake
150g rice flour
50g tapioca starch
50g wheat flour
½ teaspoon salt
130g sugar
20g pandan leaves
50cl coconut milk
20cl water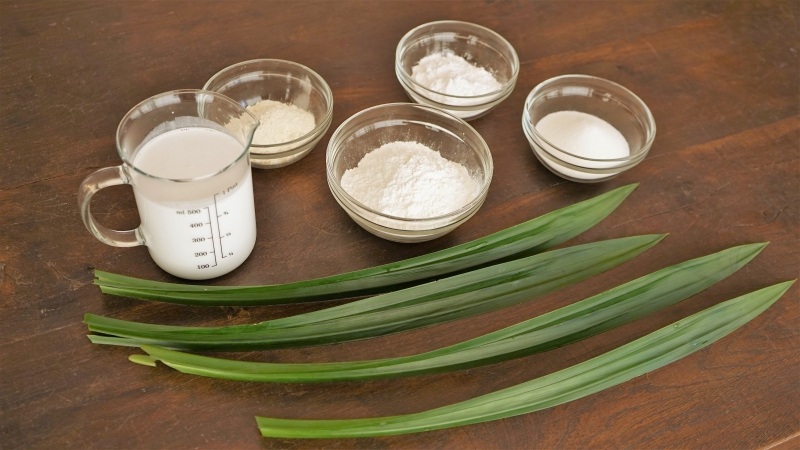 Pandan and Coconut Layer Cake - Ingredients
Watch the Recipe Video
Pandan and Coconut Layer Cake - Morgane Recipes

Cookies
© Copyright 2015- Cooking With Morgane. All rights reserved.