☰
Cooking with Morgane
Welcome
×
Oven Baked Fall-Off-The-Bone Hot Ribs
How to make this meat so tender ? There is a little secret !
The secret to get a fall-off-the-bone, tender, melting, tasty and juicy meat is the double cooking. We first cook the ribs for an hour and a half on a low heat in a broth flavored with ginger, garlic, and soy sauce. The result is ideal because the meat takes a little volume and during the second baking the sauce will better impregnate and coat it. At the end of the cooking, activating the grill for a few minutes will dry the surface of the ribs and make the sauce sticky.

The sauce is Korean, it is unctuous and fruity thanks to apricot jam and honey. The white rice vinegar brings the acidity needed to counterbalance the sweetness. The dish is quite spicy and the result is hyper tasty. You can serve with homemade French fries. Bon appétit.
Ingredients for 4 people
1kg pork ribs
10cl light soy sauce
100g ginger
30g garlic
1 spring onion
2 tsp salt
Sauce
3 tbsp Gochujang Korean chili paste
1 tbsp Korean chili powder
3 tbsp apricot jam
1 tbsp sesame seeds
1 tbsp sesame oil
1 tbsp soy sauce
1 tbsp white rice vinegar
1 tbsp honey
70g ginger
15g garlic
1 tsp salt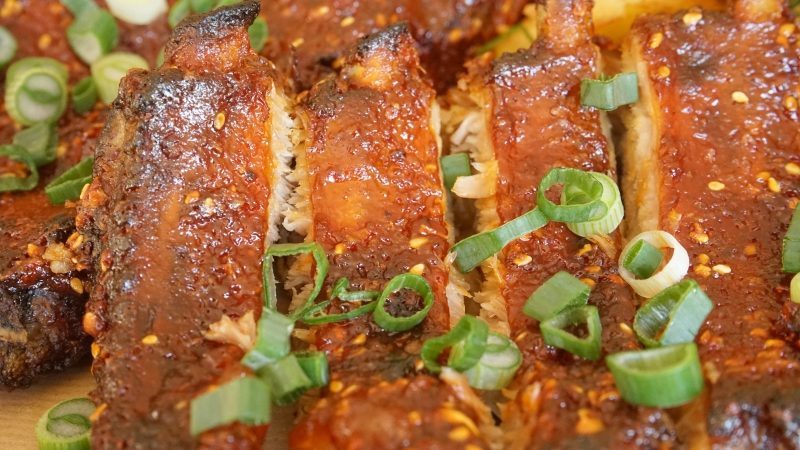 Ingredients
Share this recipe:
Watch the Recipe Video
Oven Baked Fall-Off-The-Bone Hot Ribs - Morgane Recipes

© Copyright 2015- Cooking With Morgane - Bounnhing Boualavong. All rights reserved.