☰
Cooking with Morgane
Welcome
×
Chinese Turnip Cake
蘿蔔糕
Its flavors will surprise you
This DIM SUM* dish is very common in China, it is from Canton. Its Chinese name is 蘿蔔糕 (luó bo gāo) which can be translated by turnip cake or radish pie. The word radish can also be 菜头 (cài tóu), it is a pronunciation that may seem close to that of the word fortune 财富 (cái fù). That's why this cake is always present during the Chinese New Year celebrations or other important events: it is offered as a wish of fortune and luck.

It can be eaten after steaming, but it is often preferred pan-fried with a little oil: a thin golden crust will add taste and a new texture. It is often prepared a few days before or on the eve of the celebration. When it has cooled down it is easy to cut into slices for pan-frying. It can also be the main course of a meal. Amateurs will not hesitate to eat this cake several days in a row.

Perhaps that the idea of eating radish pie does not awaken your curiosity and you find its appearance unattractive. But taste it, it is an absolutely delicious dish, easy to enjoy. Accompany it with a hot spicy sauce like Sriracha or a spring rolls dipping sauce. Bon appétit.

*DIM SUM: small dishes that we can enjoy as starters or at any time with a good tea. The Dim Sum are very varied: har-gow, chicken legs, fried shrimp dumplings, Siu Mai, white radish cake, etc.


Ingredients for 6 people
600g Chinese radish
200g ground pork
150g Chinese sausages
25g dried shrimp
50g raw peanuts (optional)
½ tsp baking soda (optional)
5 shiitake mushrooms
200g rice flour
100g tapioca starch
1 tsp salt
500ml of water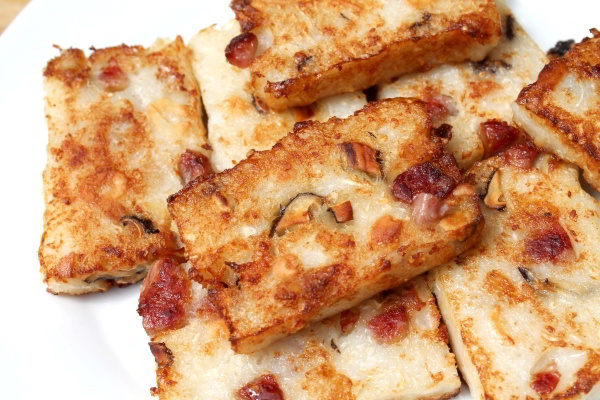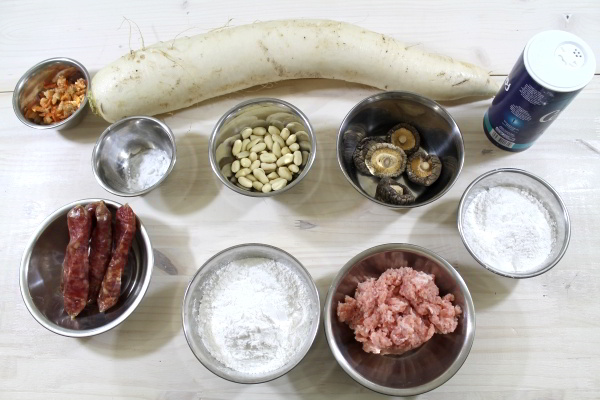 Ingredients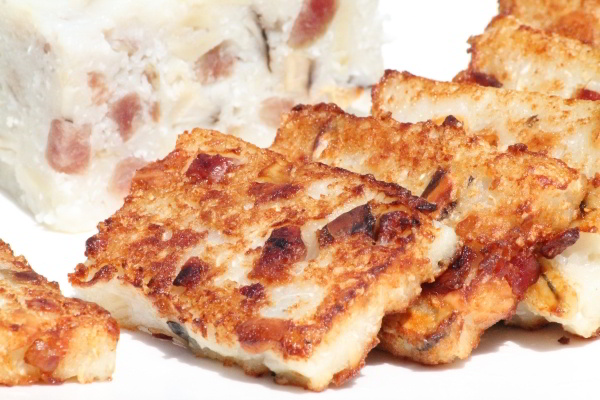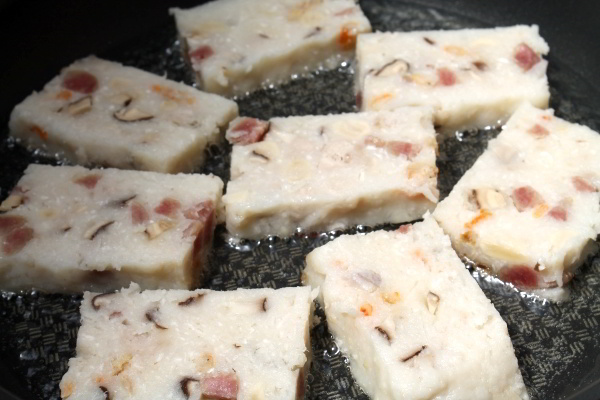 Share this recipe:
Watch the Recipe Video
Chinese Turnip Cake - 蘿蔔糕 - Morgane Recipes

© Copyright 2015- Cooking With Morgane - Bounnhing Boualavong. All rights reserved.