☰
Cooking with Morgane
Welcome
×
Chicken and Shrimp Rice Porridge
Congee 粥 'Zhou'
Good for the body and soul
The rice porridge is popular in many Asian countries, including China, Vietnam, Korea and Japan. The recipes vary but the dish is often prepared as a food therapy. The fact that the rice is boiled for a long time makes it very digestible. The dish is also famous for restoring appetite. Many will remember, when child, their parent or grand-parent made them this dish. For some older people the rice soup must boil for long hours, sometimes in a bain-marie cooking.

The traditional rice soup is very simple: rice boiled in water with possibly a little salt. The version I propose you is more like a festive dish, because it contains more ingredients and I use a meat broth. I also cut down the cooking time so that the rice grains remain consistent and not broken down. Bon appétit.
Ingredients for 4 people
300g chicken thighs or breasts
300g chicken bones
300g shrimp
300g jasmine rice
4 Shiitake mushrooms
5g small dried shrimps (optional)
3 tbsp fish sauce
½ tsp salt
4 garlic cloves
2 tbsp vegetable oil
10g cilantro
20g green onion
25g ginger
Ground pepper
3L water
Chili oil (optional)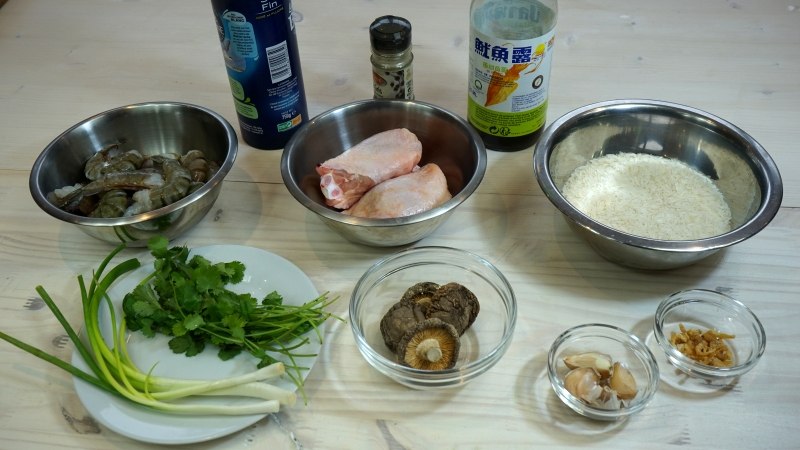 Ingredients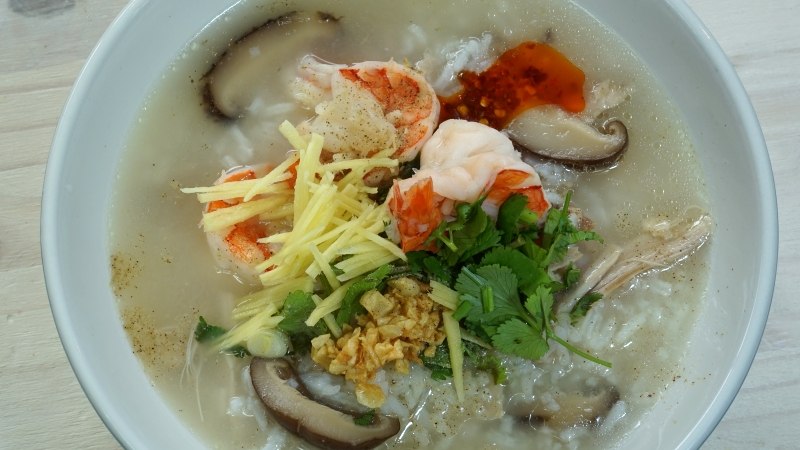 Share this recipe:
Watch the Recipe Video
Chicken and Shrimp Rice Porridge - Congee 粥 'Zhou' - Morgane Recipes

© Copyright 2015- Cooking With Morgane - Bounnhing Boualavong. All rights reserved.