☰
Cooking with Morgane
Welcome
×
Chahan
Japanese Fried Rice
A delicious dish to make with the leftovers in the fridge
Chahan is an easy to make dish from Japan. Simply take the leftover rice and add some vegetables, some pieces of meat and/or shrimp and a few sauces. The dish is quickly made and everyone enjoys it. It is a descendant of the Cantonese rice.
The vegetables and meats should be cut into small pieces. The order of cooking is important: the ingredients that need to cook long are to be put first. The eggs must cook before adding the rice, otherwise it would give it a sticky texture. The choice of sauces depends on the tastes and availability. It is very common to add sake or mirin (a sweeter sake).
There are two invariants to make a chahan: the cooking must be done on high heat and the rice must be short grain rice. To successfully cook your rice, it is important to let it soak for 30 minutes before cooking. Thus, your rice will be easier to cook with little water and a shorter cooking time, moreover it will have a good texture. The same rice cooking technique is to use for sushis and makis.
Bon appétit.
Ingredients for 2 people
250g of short rice
250ml of water
2 eggs
100g of bacon
100g of shrimp
½ carrot
1 onion
1 clove of garlic
10g of chives
½ tsp of salt
1 tbsp of soy sauce
Ground pepper
1 tsp sesame oil
1 tbsp of oil
Accompaniment: gari-ginger vinegar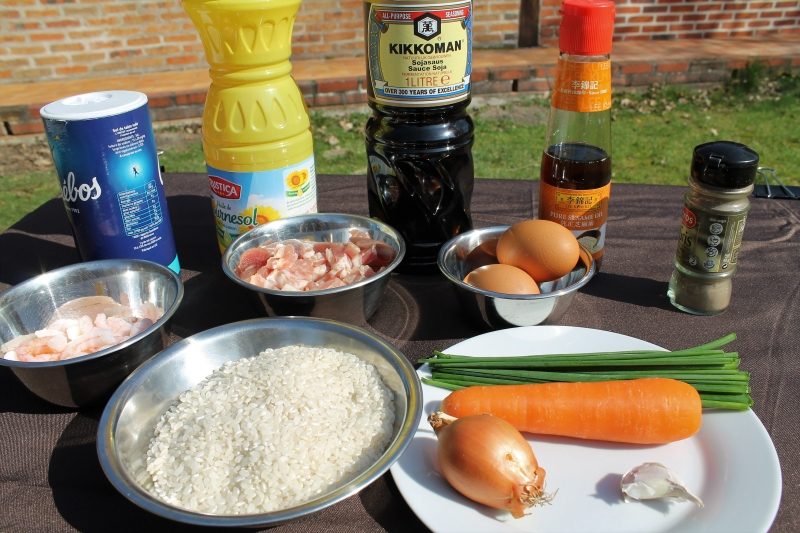 Ingredients
Share this recipe:
Watch the Recipe Video
Chahan - Japanese Fried Rice - Morgane Recipes

© Copyright 2015- Cooking With Morgane - Bounnhing Boualavong. All rights reserved.